Avro Keyboard Online is undoubtedly a user-friendly keyboard. It is an open-source keyboard (graphical) software application for Windows, Linux, macOS, Android, and iOS operating systems. Developed by OmicronLab, Avro is the most popular and free-to-use Unicode Converter and ANSI compatible Bengali keyboard which was first interfaced for Windows in 2003. For the first time in Bangla keyboard history, it allowed writers to write Bangla corresponding with Latin alphabets through Avro Phonetic. Along with that, Avro features lots of useful and amazing features such as auto-correction, spell checker, and more.
What is Avro Keyboard?
Avro Keyboard ( Bengali : ) is software for Microsoft Windows, Linux, macOS, and several other software which likewise adapt its phonetic layout to Android or iOS versions. This is the first free Unicode/ANSI compliant ANSI interface for Windows released on March 26, 2003. Avro Keyboard supports fixed and phonetic keyboard layouts named "Avro Phonetic", with which one can type Bengali in romanized form by converting the word to.
Should I download Avro Keyboard?
Avro is available in a standard installation pack for popular operating systems. It is also available in portable versions for desktop-based operating systems. However, with this website, you won't have to download or install anything at all! You can simply use Avro Keyboard online. Write Bangla with Avro keyboard and font anytime anywhere without any complexity. Just open our webpage and start typing whether you are on a laptop or phone, using Android or Windows. Though Avro is quite easy to type with for new users, our website provides an easy-to-understand key-mapping for typing with Avro format.
Avro Phonetic Layout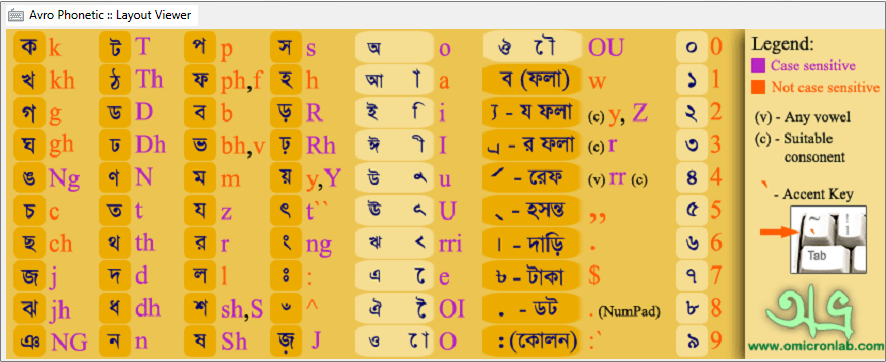 Conclusion
Avro is one of the best Bangla keyboards since its birth. Its user-friendly writing format and additional features made it acceptable to all classes of Bangla writers. With our website, you don't have to install Avro software on your device and you can still use your Avro keyboard online. Visit our website from any device and write Bangla directly. Copy all your writing from our website and paste it wherever you need it.
Online Avro Keyboard also doesn't take spaces in the memory of your device and still lets you use your favorite Bangla font. Besides, with the installed version of the Avro keyboard, you had to be stuck with that particular device but with our website, you don't have to think about that at all. All you have to think about is a good stable connection to the internet!
FAQ
How to Type in Bangla?
How do you type on Avro Keyboard?
How can I type Bangla on my keyboard?
Support for Unicode and ANSI typing!
How do I change my Avro Keyboard layout?
What are the features of Avro Keyboard?
Is Avro Keyboard safe?
Is Avro Keyboard suitable for beginners?
Does Avro Keyboard have a simple interface?
People Search
online bangla keyboard, bangla typing online, bangla typing, bangla type online, bangla software, bangla keyboard online, bangla keyboard, avro keyboard download, avro keyboard, avro download, বাংলা কী বোড, বাংলা কিবোর্ড ডাউনলোড, বাংলা কিবোর্ড pc, বাংলা কিবোর্ড, bangla keyboard pic, avro keyboard shortcut, avro keyboard online, avro keyboard download, bangla keyboard download